Different Types of Carpets and Things to Consider When Buying Them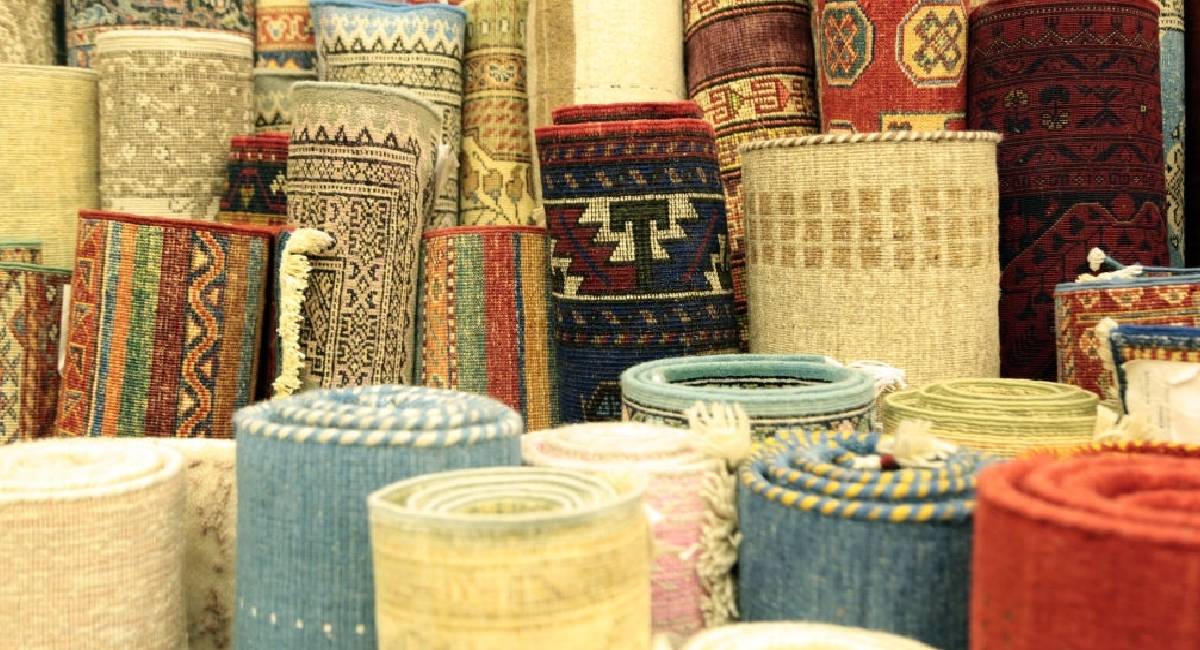 Carpets can instill in your home not just an aesthetic appeal but also comfort, durability of flooring, versatility due to the numerous patterns, colours and materials they come in and can also act as a sound absorber.
A great carpet can easily revitalize and bring back the charm of any room. Although, buying the perfect carpet isn't easy, as you need to consider a variety of things.
You must have heard the saying- not everything that looks good is good. The same can be applied when choosing the right carpet type for your home. In this blog, we are going to give you detailed insights of the types of carpets and things to consider when buying them.
Let's get started!
Types of Carpets: Your Guide to Choosing What's Right For Your Need
1. Velour Carpet
The velour carpet type is also regarded as a plush pile or velvet pile carpet.
Fibre: This carpet type is mostly machine made and made from synthetic fibres such as wool or silk. It's pile is short and twisted. In addition, it has a dense surface because it includes fibres that are cut from the top.
Quality & Texture: Because of its velvety appearance it provides a luxurious and rich look while also being soft in texture. It is also considered high in quality due to its plush, thick and rich nature and it lasts a long time.
Carpet Care: When cleaning velour carpet one should make sure they do not clean it with a vacuum cleaner due to open cuts that exist on its surfaces. It is best to clean this carpet type with a dry method so that you avoid ruining the delicate fibres by getting it too wet.
Application: Due to its thick pile, this type of carpet acts as a great soundproof material and dirt-repellent. In addition, it has exemplary durability that goes beyond a carpet's normal wear life. This carpet type is an ideal choice for both residential and commercial places such as high foot traffic areas such as office buildings as well as exhibitions, event halls , etc.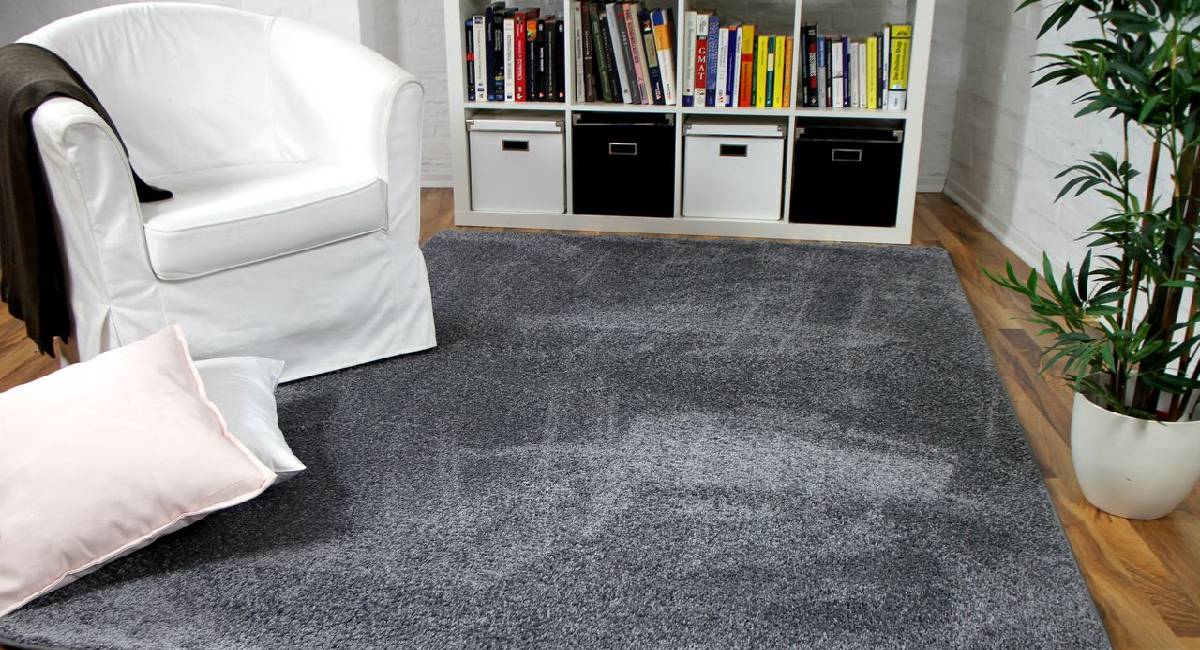 Pros:
Long-lasting & relatively easy to care for.
It's long fibres provide a cozy, soft to the touch texture while the short fibres ensure dirt repelling properties
Amazing slide-proof and sound-proofing quality.
Low cost in comparison to other types of carpets
Ideal choice for high traffic areas.
Cons:
Allows for quicker penetration of liquid due to its material, hence can easily cause stains.
Can be easily indented if heavy furniture is kept on top of it.
Tendency to show vacuum marks.
2. Flokati Carpet
Flokati carpets are a unique combination of a wool and shag carpet.
Fibre: This type of carpet is woven with pure wool from sheep. It has long fibres and is a bit roughly felt.
Texture & Quality: It has a cozy , warm and fluffy texture but is also a little hairy and frayed. They have great quality as they are highly durable.
Carpet Care: Flokati carpets have a tendency to shed a little during cleaning, so do not vacuum them. The best way to take care of the flokati carpet is to lightly brush with a metal dog brush, use cold water and the fresh air or outdoors to dry the carpet.
Application: Flokati carpets are best used in residentials and as well as outdoors in tents due to their warming- properties during winter months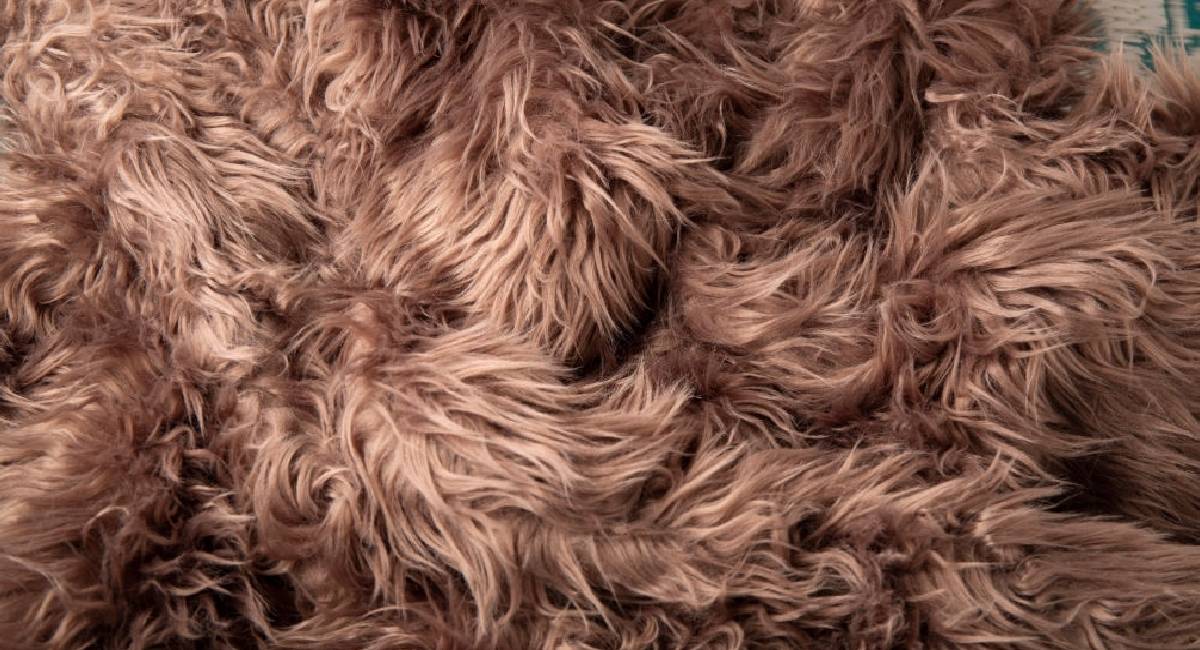 Pros:
Soft and fluffy texture along with warm and cozy appeal
A cheaper option to persian oriental carpets
Eco-friendly nature as they are 100% made of pure wool.
Cons:
This carpet type is not pet-friendly and stains can seep deep through the wool making them difficult to clean.
Highly unsuitable for high foot traffic areas.
3. Sisal Carpet
Fibre: Sisal carpet is made from a natural fibre extracted from the long spiny leaves of the Agave plant.
Quality & Texture: It has a sturdy and hard texture and is highly resilient than other natural fibre carpet types.
Carpet Care: The most important rule to remember when cleaning a sisal carpet is to never use shampoo or wet it as it is very absorbent fibre. Dry cleaning and vacuuming is the only effective method for successfully keeping the sisal carpet clean.
Application: Sisal carpet is ideal for use in living rooms, halls or stair areas due to its non-slippery property.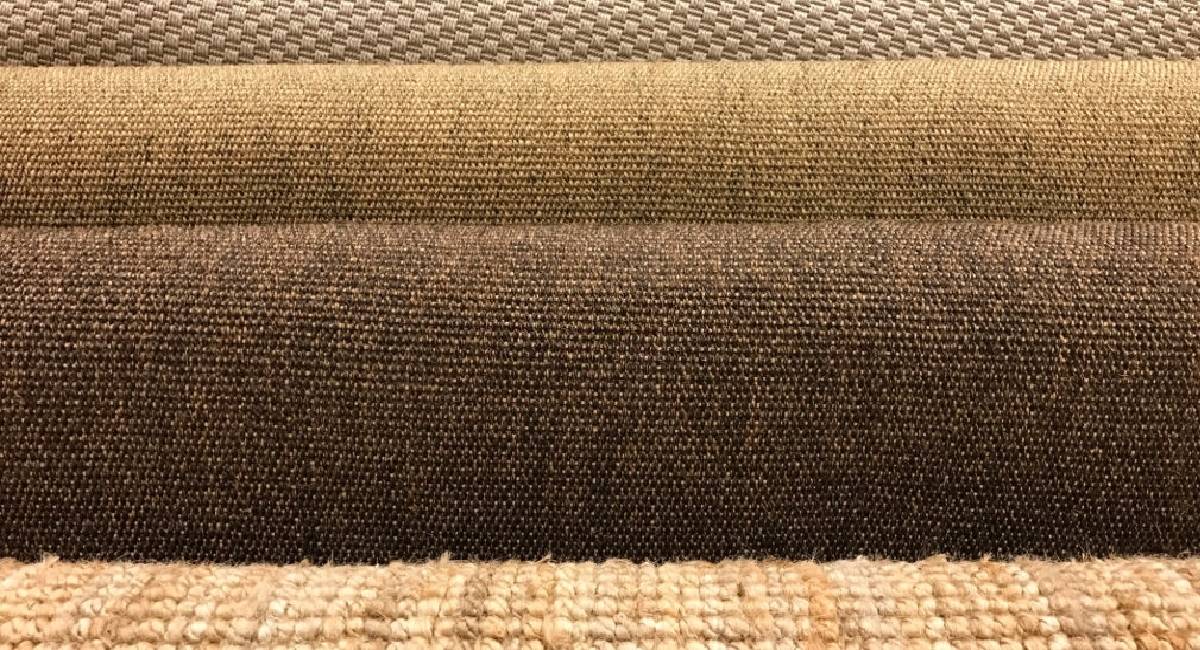 Pros:
Most durable carpet type due to its strong and tough exterior.
Naturally distinctive tan, beige and white colour that goes well with any decor.
Eco-friendly, non-toxic and great for individuals with allergies and asthma
Low-maintenance and super easy to clean
Not flammable and resists static.
Super absorbent, hence it acts as a humidifier for your home and helps keep it cool on hot days.
Cons:
Prone to staining due to its absorbent nature. Thus, it cannot be wet shampooed or steam cleaned.
Although sisal is a tough material, it is rough to the touch and not an ideal option for individuals who prioritize softness and comfort.
4. Tufted Carpet
A tufted carpet is manufactured using an undyed yarn.
Fibre: This carpet type is recognized by the special backing that is carried out on the fabric. The pile of the tufted carpet is made of synthetic and animal or vegetable fibres. Each individual thread is then pierced into the material, knotted and looped using a needle.
Quality & Texture: Tufted carpet is not durable and is prone to a lot of wear and tear as it cannot be cleaned thoroughly due to the backing. This carpet type also has a coarse and pebby texture.
Carpet Care: Vacuuming is the only effective method to keep your tufted carpet clean. If you have to clean a stain on your tufted carpet, be careful with the amount of water you use as this carpet type is sensitive to water. Do not rub the stain but blot. And if needed use a non-bleach, ph-neutral cleaner.
Application: Great option for both residential and commercial uses.
Pros:
Quick production and inexpensive
Available in wide-range of designs and colors
Slip-free
Can withstand heavy foot traffic
Cons:
Harder to clean and maintain
Prone to shedding
Might have a bad odour to it due to the latex adhesive used to produce it.
5. Shaggy Carpets
Shaggy carpets are also known as deep pile carpets.
Fibre: Shag carpets are usually made of wool and appear noodle-like. They have long and thin-fine fibres.
Quality & Texture: Shag carpets are soft to the touch and are fluffy in nature. They are also durable (can last for years) if taken care of properly.
Carpet Care: Vacuuming and steam cleaning a shaggy carpet when stained are the best methods to take care of it. However, make sure you vacuum by hand and do not use the vacuum's power head.
Application: Shaggy carpets are best used in residential and indoor areas such as in bedrooms, lounge rooms and children's rooms. They are also ideal for outdoor areas such as the balcony.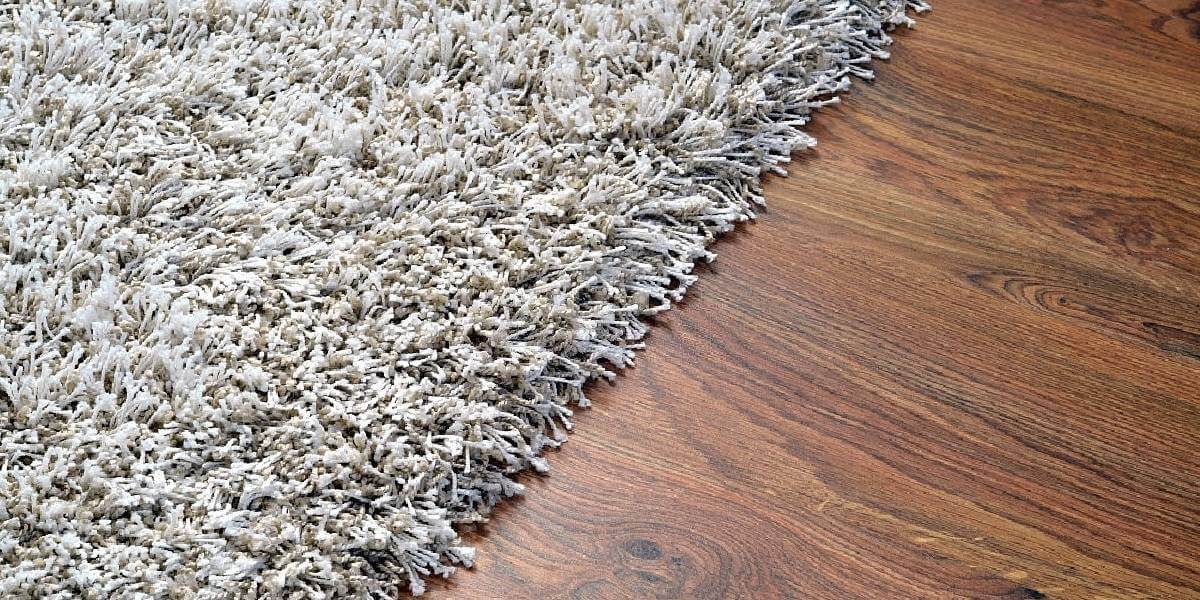 Pros:
Can instantly improve the look of any decor piece.
They are super comfortable and provide your home with warmth in winters
Great at hiding any unsightly threads or seams.
Cons:
Shag carpets are great for comfort but not as durable in high foot traffic areas.
Need regular maintenance as they can quickly unravel. Also, since you cannot see the seams of a shag carpet, you won't notice the wear and tear until it's too late.
6. Dirt Trap Carpet
Dirt trap carpets or runners are carpets that have a unique border design that helps accumulate the dirt and moisture all in one place, making them super easy to clean. They are made from cotton rich piles with a rubber backing.
Fibre: Dirt trap carpets are produced with natural, metallic or synthetic fibres. These fibres are highly thick and heavy, sturdy and roughly processed.
Quality & Texture: Dirt trap carpets are durable if they are cleaned properly and the texture of these types of carpets are firm and rough.
Carpet Care: The best way to clean a dirt trap carpet is to wash it by hand or machine at a temperature of no more than 60 degree celsius. Do not use a fabric softener or detergent as this can hinder the carpet's dirt trapping properties.
Application: Ideal option for high traffic areas such as commercial spaces as well as landings such as indoor and outdoor door mats, large entrances and hallways.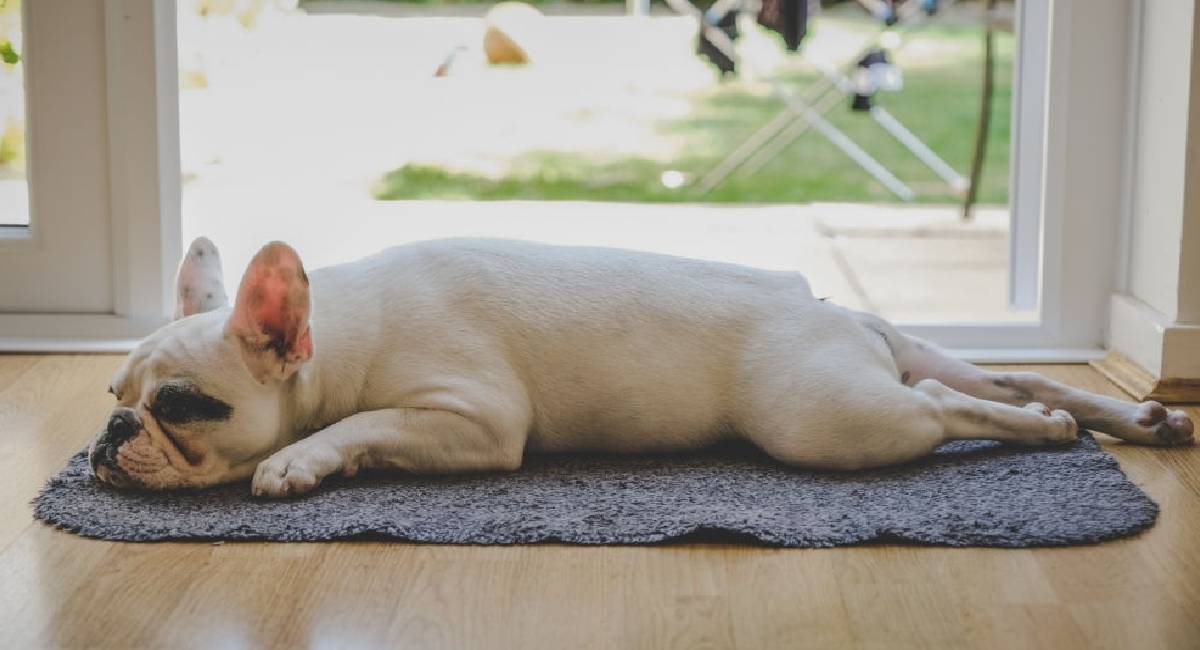 Pros:
Ability to resist mud by trapping the dirt and debris on the walking surface
Have a rubber backing that prevents them from moving or slipping even when put on a hard floor.
It is easy to clean and maintain as it can be machine-washed and vacuumed.
They are highly customizable, and ideal options for even reception areas.
Cons:
Are firm and hard, so if softness is a priority then this carpet type is not for you.
Not an ideal option for individuals with dust allergies and asthma.
7. Oriental Carpets
Fibre: An orient carpet is hand-knotted or woven on a loom, with piles that mainly consist of natural fibres such as cotton, wool and silk.These piles are kept evenly short.
Quality & Texture: Oriental carpets have great quality and tend to be durable and capable of withstanding wear and tear. They have a soft texture.
Carpet Care: Dry cleaning and regular vacuuming are the best methods to clean oriental carpets. Do not steam clean this type of carpet.
Application: Oriental carpets drive prominent attention which is why they are mainly used in spacious living and dining rooms as well as residential hallways. They are also used in commercial settings such as hotel lobbies and fancy stores.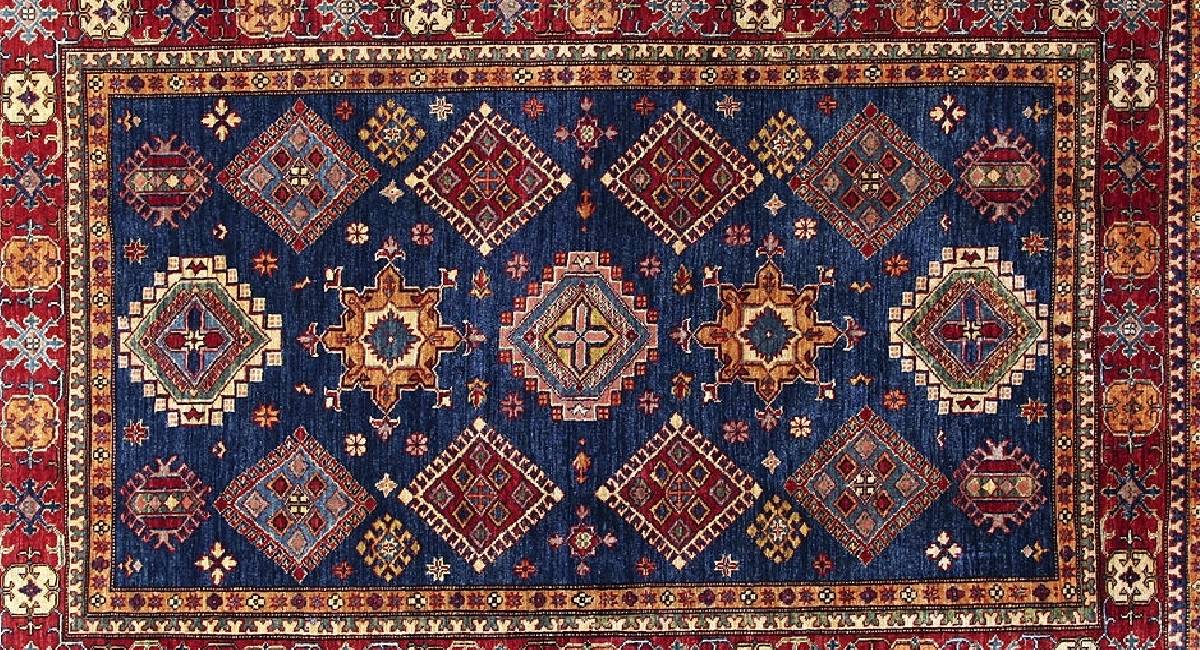 Pros:
An oriental carpet is highly durable
Made with natural fibres
Ability to absorb sound
Act as a cushion for your living space because of its soft texture
Capable of withstanding wear and tear
Give off a luxurious appeal
Cons:
Are expensive when compared to other types of carpets
Highly prone to stains of all sorts
Tiny white dots may begin to emerge with time affecting the visual appeal.
8. Berber Carpet
Fibre: The finest berber carpets are made from nylon and wool. Although there are also less expensive berber carpets that are made from olefin or polyester material or a mix of different fibres.
Quality and Texture: Berber carpets have exemplary quality as they are highly durable and cannot be torn off easily even when they are exposed to high traffic areas. It has a rough texture as opposed to soft as seen in a few other carpet types.
Carpet Care: The best way to clean a berber carpet is regular vacuuming and dry cleaning. If you want to use plain water, ensure you do not use too much as due to their thick material, berber carpets can take really long to dry.
Application: Berber carpet is often a great choice for the living room as well as other high traffic areas such as commercial buildings.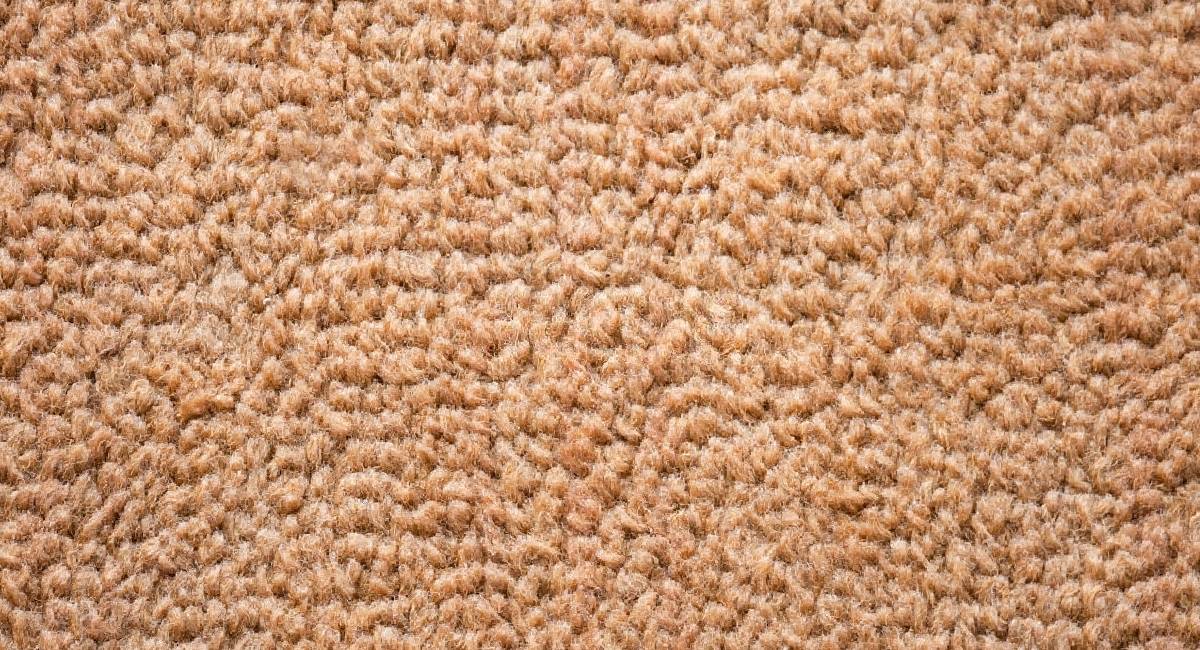 Pros:
Highly durable and aesthetically pleasing.
Stain-resistant properties
Great for high traffic areas.as well as areas where there are children and pets
It is also an affordable carpet type.
Cons:
Hard to clean and maintain.
Loops in berber carpet are easy to snag, hence, damaging the carpet.
Discoloration can occur on the berber carpet if heavy items are dragged.
9. Nepal/Tibet Carpet
This carpet type is produced by hand-spun wool from highland sheep.
Fibre: There are patterns on the edges that are made by making cuts with scissors. This exudes a three-dimensional effect. The fibre of the tibet carpet is highly resilient and gives off a beautiful shine.
Quality and Texture: The tibet carpet has a soft and delicate texture along with being durable.
Carpet Care: Tibetan carpets need to be carefully cleaned. Weekly cleaning with a vacuum is a must. While vacuuming, ensure you only use the suction hose and head and not the stiff brush that rotates inside the vacuum cleaner.
Application: Although tibet carpets are multi-purpose and can be used for flooring, wall hangings and more, they are most commonly used as a seating carpet- i.e. a plush carpet for covering cushions..
Pros:
High appreciation value due to the variety of decorative patterns and colours
Soft, fine and smooth to the touch.
Considered unique art objects due to the Tibetan art of knotting
Has a robust and rough as well as elegant and modern design
It is highly durable and woven from the highest quality wool.
Cons:
Needs effort to clean and maintain
Can be expensive.
10. Persian carpets
These types of carpets are known for their rich colour, spectacular variety of designs and patterns and exemplary craftsmanship.
Fibre: Persian carpet is hand woven with wool, silk or a blend of both.
Quality & Texture: Plush and extremely soft in texture as well as hard-wearing and durable.
Carpet Care: Use mild detergent and cold water when cleaning persian carpets. We do not recommend steam cleaning such antique carpets.
Application: This carpet type is best used indoors in the living room or bedroom to add visual appeal as well as keep one warm during winter months.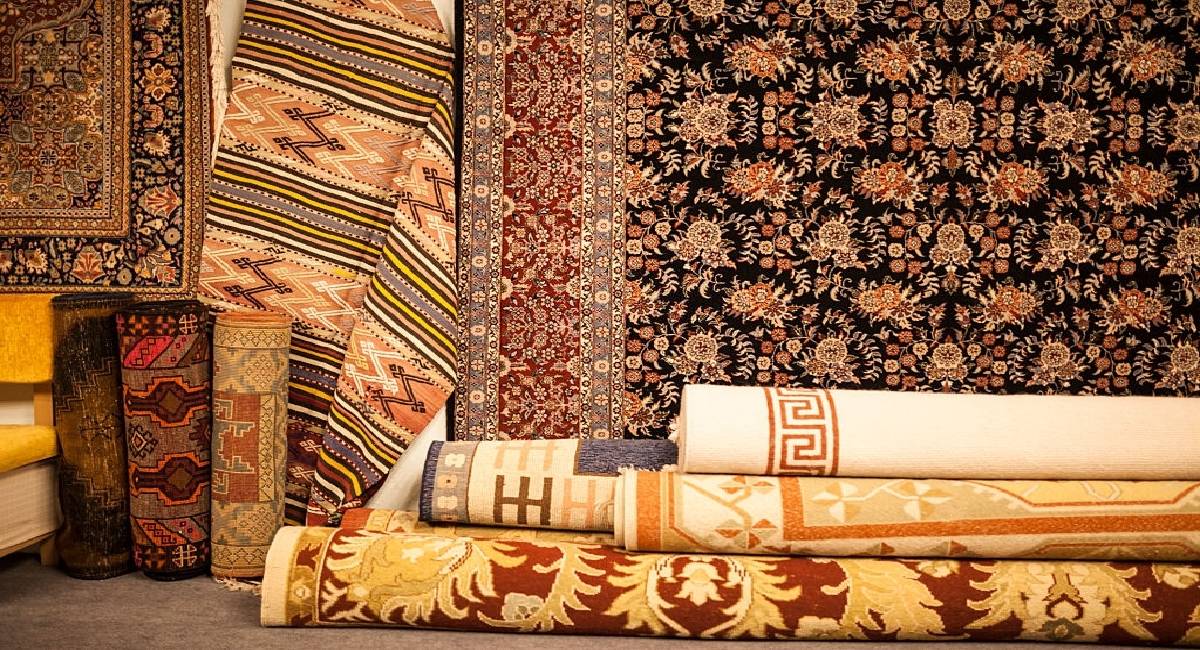 Pros:
Eco-friendly as they are made from naturally sourced dye and fabric.
Great option for individuals with allergies as they release very less allergens as compared to other types of carpets.
Less flammable
Gives a regal and sophisticated look to any room.
Soft and plush texture
Cons:
Are overly expensive
Very difficult to clean and needs a maintenance schedule beforehand.
11. Design Carpet
This carpet type is truly one that exudes a striking and modern visual appeal.
Fibre: The design carpet is made of wool or synthetic fibres and partly includes tiles, mirrors or stones.
Quality and Texture: This carpet type is durable and comes in various textures, designs and patterns
Carpet Care: Taking care of a design carpet involves vacuuming, spot cleaning as well as stain removal.
Application: These carpets come in bright colours and contrasts and are meant to spruce up both indoor and outdoor areas.
Pros:
Are durable and hard-wearing
Come in a variety of patterns and styles
Can come in unusual forms due to the different shapes available
Affordable carpet type.
Easy to clean and maintain
Cons:
Prone to staining
Discoloration can occur
Don't last as long as other carpet types
12. Sheepskin or Lambskin Carpet
Fibre: The sheepskin carpet type has fine soft long wool fibres with exemplary strength.
Quality & Texture: It is luxuriously soft to the touch, cozy and also provides a textural feel. It is also highly durable.
Carpet Care: It is important to regularly brush a sheepskin carpet to keep it in optimal condition. Make sure while washing that you use cold water as well as a cleaner specifically designed for sheepskin carpets. Avoid bleach and other harmful cleaners at all costs.
Application: It is mostly used in daycares and nurseries as it provides a soft landing in case of a fall, as a bath mat in bathrooms, as a comfortable lying bed for a pet, or even in your home office.
Pros:
This carpet type is naturally resistant to mould growth, bed bugs and dust mites
Absorbs noise and moisture
Helps regulate body temperature keeping one warm and cool as needed. Hence, great for pets, children and even adults.
Very breathable fabric that allows air to circulate around you.
Easy to clean and maintain.
Highly durable
Cons:
Prone to shedding as they are made from animal hides.
Not affordable
It tends to accumulate dirt easily.
13. Silk Carpet
Fibre: The fibre used to make silk carpet is without a doubt the exclusive natural silk material.
Quality & Texture: It has a delicately soft texture and since silk isn't particularly the toughest of materials, it is not as durable as other types of carpets seen in this blog.
Carpet Care: The best way to keep silk carpets clean is to vacuum them regularly, brush the dirt off gently as well as using a gentle cleanser.
Application: Silk carpets are an ideal option for low foot traffic areas such as bedrooms, living rooms and guest rooms.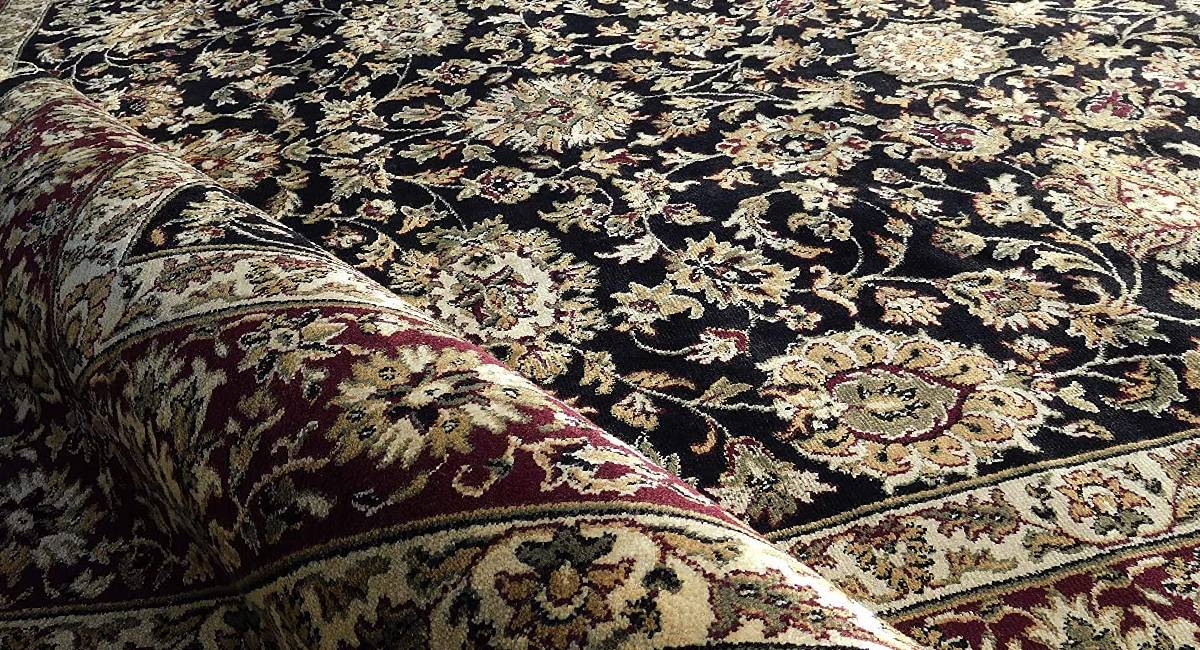 Pros:
Silk carpets give off a shiny sheen that reflects light in different places.
Silk carpet is made of high quality , hand-knotted material and showcases amazing workmanship.
It is extremely delicately soft to the touch and provides a sophisticated look to any decor piece and room.
Available in a large variety of patterns and colours.
Cons:
Silk carpets are relatively more expensive than other types of carpets.
Silk carpets are sensitive to alkalinity and turn yellow when exposed to chlorine and bleach detergents.
This carpet type gets easily stained.
Difficult to clean and maintain.
14. Wool Carpets
Fibre: Wool fibres naturally are recognized as staple fibres. This means the fibres are short strands that are woven into yarn making them into the carpet pile.
Quality & Texture: Wool carpets have high durability as they are naturally resilient. Also wool has a unique texture such that it is a combination of soft and springy. Thus, prone to crushing and having the ability to maintain the comfort for years.
Carpet Care: In order to take care of this carpet type vacuum using soft bristles and good suction force. You can also use a solution of vinegar with water to absorb all the oil and dirt stuck in your wool carpet. Do not steam clean wool carpets.
Application: Can be used as an insulation material both indoors in residences and commercials.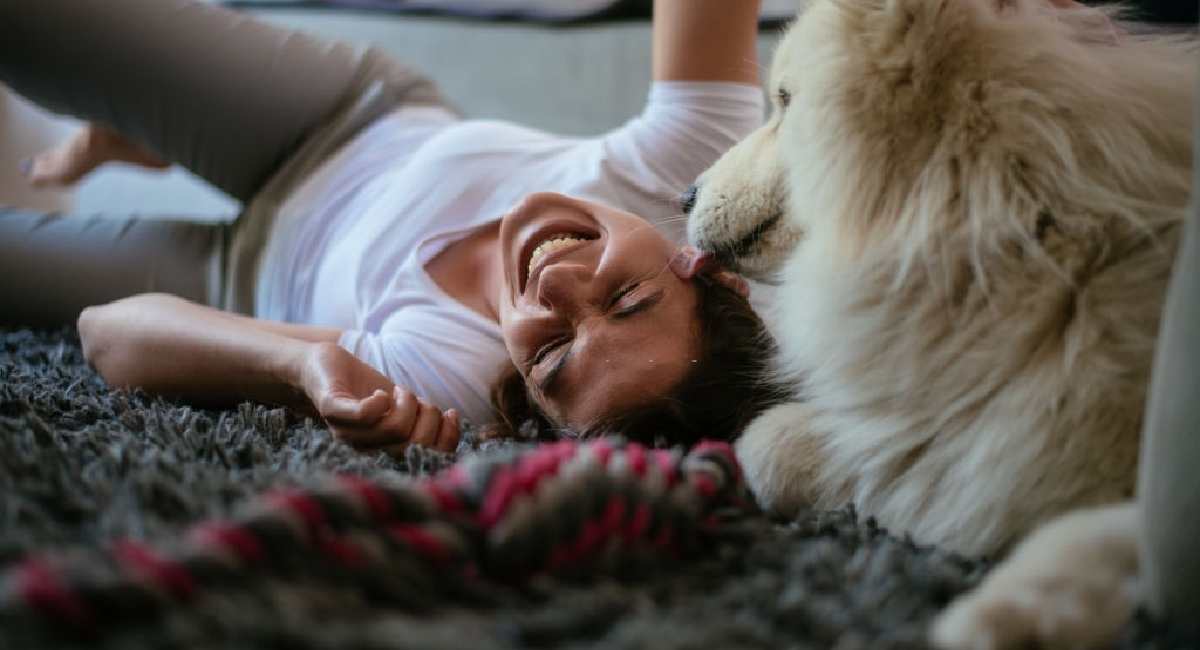 Pros:
Wool is not delicate and has great resilience, i.e can withstand up to decades of wear and tear.
Colour fastness and retention properties
Ability to resist water based stains and repel dirt.
Naturally flame resistant making it resilient to matches, cigarettes and other sources of fire.
Cons:
Costs more when compared to carpet types made with nylon and polyester.
Although water-based stains are easy to clean up on wool carpet, oil based stains are difficult to clean.
Can cause mildew due to its moisture absorbing property.
Prone to shedding and can be a breeding ground for moths and carpet beetles if not cleaned properly.
Also Read: Guide to Cleaning and Maintaining White Carpets
Also Read: How to Clean Jute Carpets Effectively
Final Thoughts
There you have it. There are a multitude of options you can pick from when it comes to types of carpets. But knowing which one is right for your space, your preferences and your convenience is key.
We hope this blog has helped you narrow down your choices! If you've finally understood the carpet types and now know which one is yours, don't forget to get it cleaned by the professionals at My Fair Cleaning!
Ali October 26, 2021 Carpet
Previous Post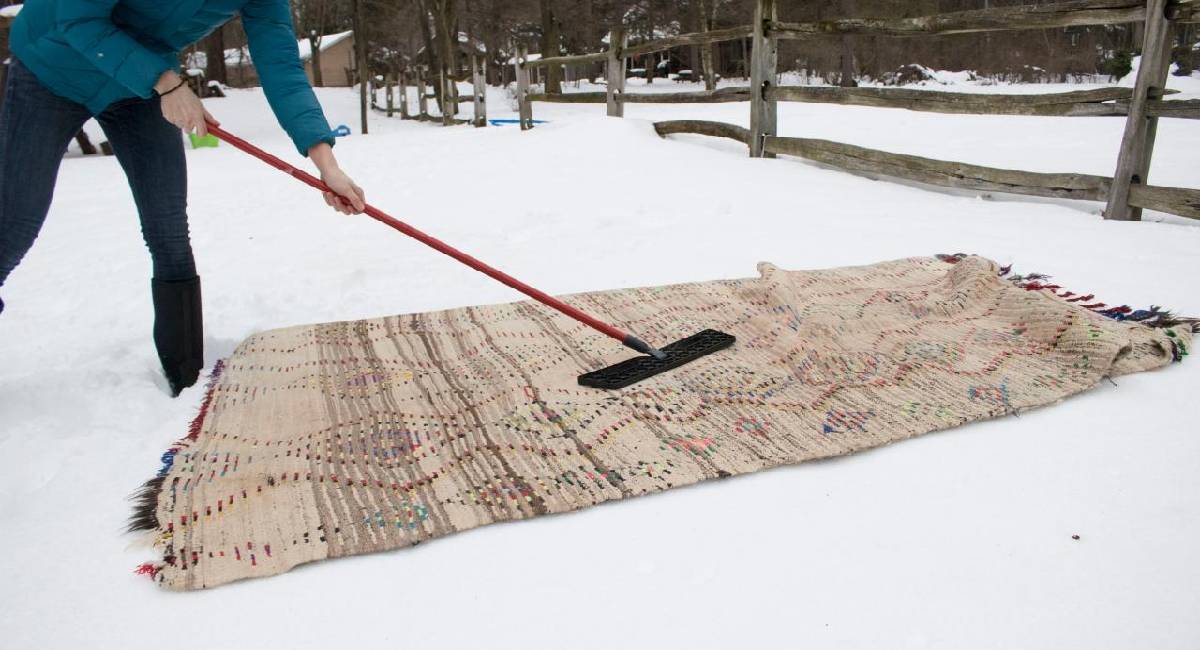 An age-old household trick in Germany has been around- carpet cleaning with snow. This works by layering a sufficiently thick layer of snow till it covers the ground. The carpet is then placed on the snow and left for a few minutes. As an optional step, the carpet is also then dragged back and forth […]
Read More...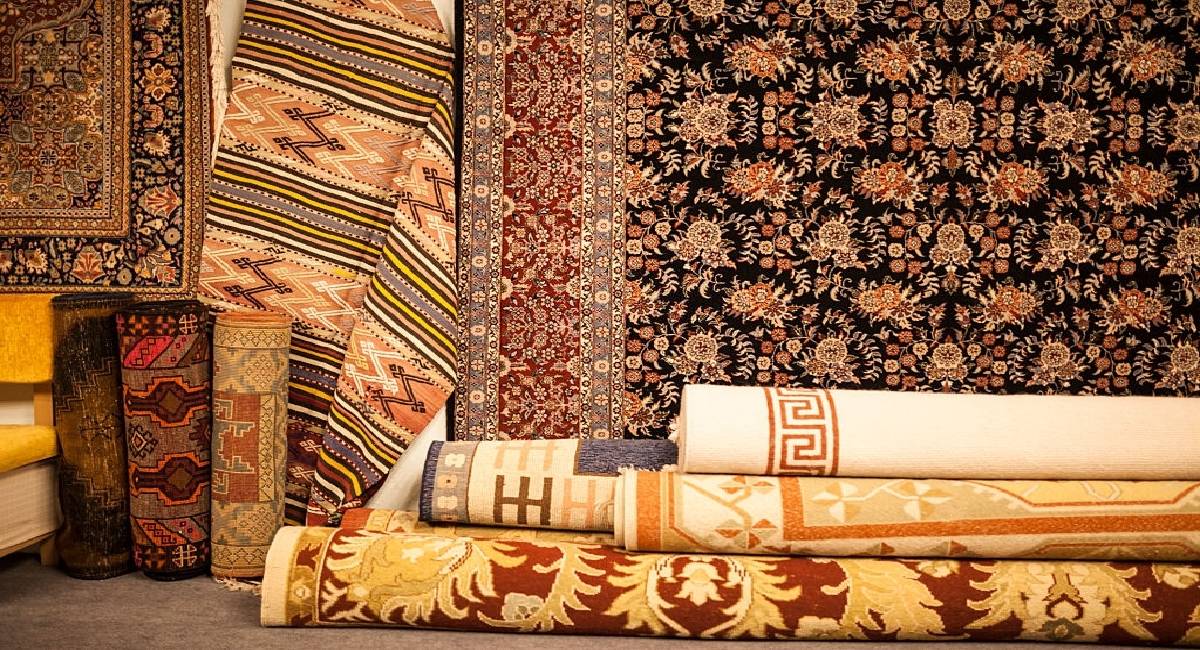 Persian Carpets- A Great Investment for Your Home Persian carpets are made exclusively handcrafted by weaving with looms, are a work of art and are specialties that are worth the investment. This is because they are the only carpet type that offers the individual a great resale value. They can be sold even after many […]
Read More...