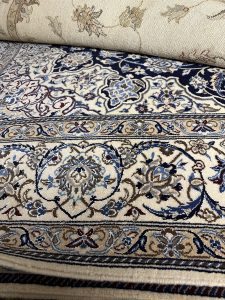 There are different types of silk carpets, mainly distinguished by their origin, technique and design. Some of the most well-known types of silk carpets are:
Persian carpets: Persian carpets are famous for their fine workmanship and ornate patterns. They originate from Persia, modern-day Iran, and are often made of wool or silk.

Chinese Silk Carpets: Chinese silk carpets are known for their fine workmanship and precise patterns. They are often decorated with elaborate depictions of animals, landscapes and mythological figures.

Indian Silk Carpets: Indian silk carpets are known for their bright colors and intricate patterns. They are often knotted by hand and often have complex geometric designs.

Tibetan Silk Carpets: Tibetan silk carpets are known for their traditional patterns and symbols depicting Buddhist motifs.

Keshan Silk Carpets: Known for their strong colors and geometric patterns, Keshan silk carpets originated in central Persia.

Turkmen Silk Carpets: Turkmen silk carpets are from Central Asia and originate from the nomadic tribes of the Turkmen and often have very colorful and abstract designs.

Hereke, unrivaled masterpieces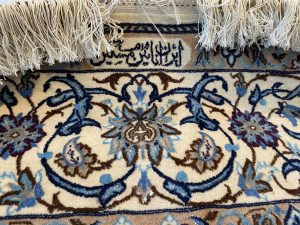 There are many other types of silk carpets that come from different regions and have different techniques and patterns. As with all rugs, it is important to know the type of rug to ensure proper care and cleaning.
Oriental carpets with silk are beautiful and valuable textiles that require particularly gentle cleaning in order to retain their beauty and longevity. Here are some tips for cleaning Oriental rugs containing silk:
Remove dust and dirt regularly: use a soft broom or brush to thoroughly dust the carpet. This helps clean and refresh the surface fibers.

Use special carpet cleaning products: Oriental carpets containing silk require special cleaning products that are not too aggressive. Avoid using detergent or other chemicals that can fade colors or damage fibers.

Wear off stains as soon as possible: Stains should be removed as soon as possible to prevent stains from penetrating the fibers. Use a damp cloth and mild detergent to gently blot stains.
Have the rug cleaned by a professional: It is advisable to have oriental rugs with silk content cleaned by an experienced carpet cleaner, as these experts know the correct cleaning methods and products to clean the rugs thoroughly and gently.
Price – €20.90/sqm