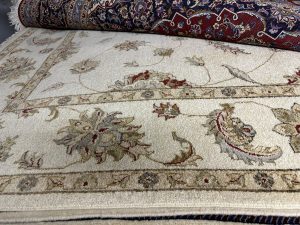 There are different types of oriental carpets, which differ mainly in their origin, technique and design. Some of the most well known types of oriental rugs are:
Persian carpets are famous for their fine workmanship and intricate patterns. They originate from Persia, modern-day Iran, and are often made of wool or silk.
Keshan rugs: Keshan rugs originate from central Persia and are known for their strong colors and geometric patterns.
Bakhtiari carpets: Bakhtiari carpets come from the province of the same name in Iran and are known for their lively colors and abstract patterns.
Gabbeh rugs: Gabbeh rugs originate from southern Iran and are known for their colorful and simple designs.
Kilim rugs: Kilim rugs are flat-woven rugs that originate from central and eastern Anatolia. They are known for their geometric patterns and bright colors.
Turkmen Carpets: Turkmen carpets are from Central Asia and originate from the nomadic tribes of Turkmen. They are known for their bold colors and abstract patterns.
Baluchi rugs: Baluchi rugs are from Iran and Pakistan and often have geometric patterns with warm colors.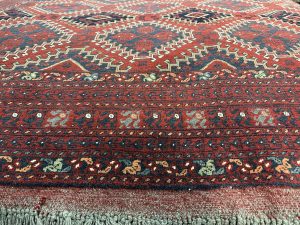 These are just some of the most well-known types of oriental rugs, there are many other types of oriental rugs that come from different regions and have different techniques and patterns.
Oriental rugs are beautiful and valuable textiles that require thorough cleaning to maintain their beauty and longevity. Here are some tips for cleaning oriental rugs:
Remove dust and dirt regularly: Use a soft broom or brush to thoroughly dust the carpet. This helps clean and refresh the surface fibers.
Use special carpet cleaning products: Oriental carpets are usually made of wool or silk and therefore require special cleaning products that are not too aggressive. Avoid using detergent or other chemicals that can fade colors or damage fibers.
Wear off stains as soon as possible: Stains should be removed as soon as possible to prevent stains from penetrating the fibers. Use a damp cloth and mild detergent to gently blot stains.
Have the carpet cleaned by a professional: For larger stains or stains that you cannot remove, it is advisable to have the carpet cleaned by a professional. An experienced carpet cleaner will be able to use the right cleaning methods and products to thoroughly and gently clean your carpet.
Avoid direct sunlight and moisture: Oriental rugs should not be exposed to direct sunlight as this can cause the colors to fade. Moisture should also be avoided as this can lead to mold growth.
With these tips, you can keep your oriental rug in perfect condition and preserve its beauty and longevity.
Price – €14.90/sqm